Article By: Patrick R. O'Boyle
Relogic as recently ditched "Engine Software Company" in favor of working with Pipeworks Studios to work on the lastest update for Terraria. Essentialy, Terraria Otherworld is Terraria 2.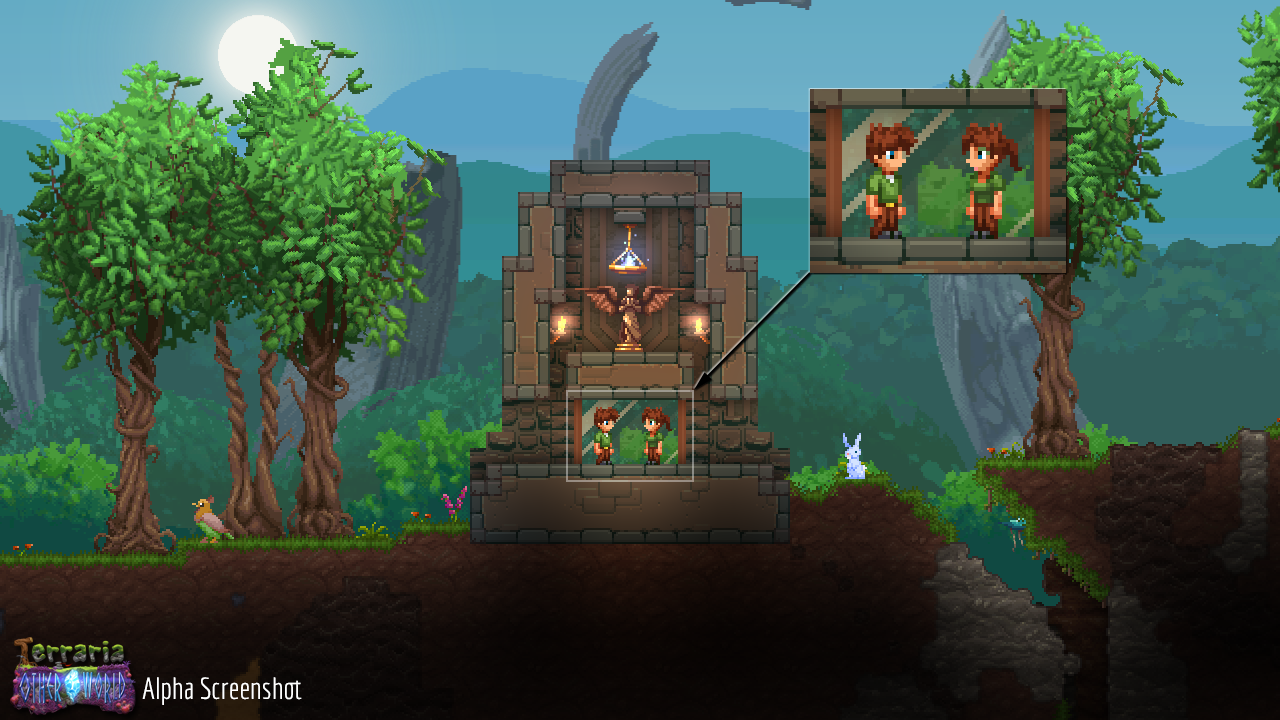 Terraria Otherworld is definantly a MASSIVE update to the graphics of the game. It still
Plays and feels like the same old game you know and love. But, the graphics look more like
something you would see in an xbox360 or xbox0ne as opposed to a N64 or Nintendo NES.
Recently, Relogic decided to move away from "Engine Software" a company they had previously been working with since the inception of the project to join forces with Pipeworks Studios. Engine Software is the company behind the console and mobile editions of the orginal Terraria game.
Relogic as probably been more silent about there game than Fortenite. (atleast we got
Some nice wallpapers recently from Fortenite.Though.. no news on a release date sadly)
Though there have been no release date annoucements for Terraria Otherworld, many on the community forums have been speculating that it might see a release date by july of 2017.
though, this changeover means that they'll be having to re-examine the underlineing code BEFORE they can move forward. The reason for this changeover appers to mainly be due to the game being incrediably behind schedule. Terraria otherworld was orginally planned to be released in late 2015. This is now, April of 2017.
so, you can understand why re-logic as decided to work with another game developer. Pipeworks is fairly familar
With the underlineing coding, since they've been working since 2016 with the console and mobile editions of terraria. The fact the pipeworks is already very familar with the underlineing software should defninalty help bring them up to speed on the new project.
To quote re-logic:
"Come whatever may, quality is simply not something we are willing to compromise on to make a quick buck. It may be painful in the short term, but our sincere hope is that it will pay off for everyone in the long term," the studio said. "Clearly, had we known this would be the scenario way back then, we would have held off on announcing the game until a later time—but such is game development. That said, we are really happy and confident with the new team and new plan—and cannot wait to get back on track."
Re-Logic said it would share more "very soon," but added that it "will not delve into some areas out of either respect or confidence or the unknown."
No release as been given for Terraria Otherworld yet. If you'd like to keep up to date with TOW i'd definanlty encourage you to follow them on twitter at: LINK they have a ton more pictures they've the posted on there
Twitter account. The game as been in slow development since Febuary of 2015.

check out there offical website at: http://terrariaotherworld.com/